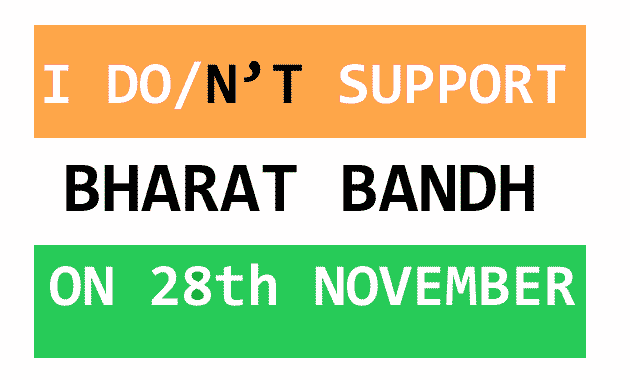 A nationwide protest of Oppositions against government decision of Demonetization to Bharat Bandh on 28th November, Monday.
As the many problems arise due to demonetization, The queues outside banks and ATM have not shortened, the demand for currency not meeting, even ATM have also become cashless, huge demand of new note are not meeting by the bank in short RBI is something fail to manage currency crises due to demonetization.
The public in India especially in rural area, where no proper banking channel available or nonavailability of cash in those branches, faces many problems due to government moves on demonetization. Businessman and traders, shops sale are down during November also face many problems. hence opposition party are called the protest against the government.
After More than 200 MPs joined together to form a human chain in front of Mahatma Gandhi's statue outside the Rajya Sabha against the decision of the government on demonetization. the opposition demanded that Prime Minister Narendra Modi should address the parliament in both houses on the issue of demonetization and name those who died due to demonetization.
The opposition parties including Congress, Communist Party of India (Marxist), Samajwadi Party (SP), Trinamool Congress (TMC), Bahujan Samaj Party (BSP), All India Anna Dravida Munnetra Kazhagam (AIADMK) and Dravida Munnetra Kazhagam (DMK) announced that the decision t hold the 'All India Protest' says by Aakrosh Diwas on Wednesday.
A nationwide protest would mean more public inconvenience. Many people on social networking promoting their own opinion against 'Bharat Band' and stand with PM Narendra Modi and support Modi on Bharat bandh government decision. Some as follows
"I DON'T SUPPORT BHARAT BANDH ON 28TH NOVEMBER, because I am against the corruption black money and corrupt politicians, I support Demonetization, I am with Narendra Modi"
its seems like there are many supporters of Modi government and people are supporting them for demonetization decision. now it has to look that, is the protest of opposition on closed ALL India is succeed or not.
Are you Support Bharat Bandh on 28th November ? comment. . .