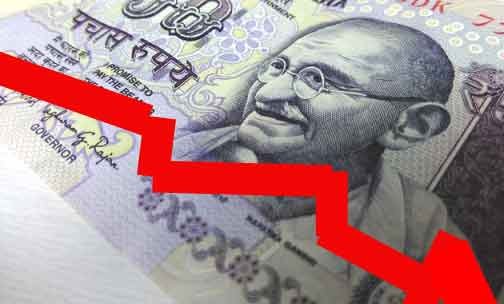 On Thursday, Indian Rupee hits All time low record by depreciating 30 paise against US Dollar, amid sustained foreign fund outflow and foreign investors surge in overseas markets. The rupee low surpassed the rupees previous all-time low of 68.85 hit in August 2013, when the country faces worst currency crisis in more than two decades.
as investor fled the risk of emerging market assets on expected to increase the rate by increase US federal reserve in next month. So far November, FII have sold combine of $3.18 Billion in local equity & debts, it is the highest selling in 3 years.
The Reserve Bank of India (RBI) Intervened in the market and Sold around USD 500 million to support the local currency when it fell to around 68.80 per dollar and recovered to 68.59 per dollar, but the dollar continues to be stronger on Thursday morning, traders said.
Indian rupee is depreciated by 2.92% since Donald Trump elected as US Presidential on earlier this month and India government Strike on 500 & 1000 rupee old notes.
"earlier it expected that Dollar was expected to weaken with Republican party victory as Donald Trump would turn protection which not good for the economy. however, the dollar has been strengthening relentlessly since then" according to Care Ratings Report
Frequent fluctuation in currencies across the world, not just the Indian rupee, is becoming a new normal, says Commerce Minister Nirmala Sitharaman in an interview to CNBC-TV18.
However, it does not expect to further weaken because the RBI has plenty of forex reserves. analysis also not expected to further weakening in Rupee against Dollar.
Are you expect further depreciation of Indian Rupee ? comment. . .