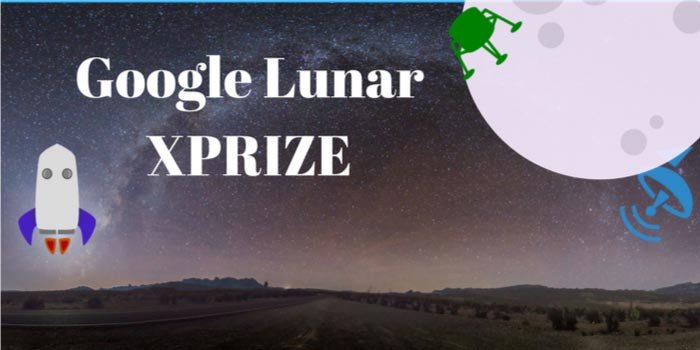 The Google Lunar XPRIZE Competition popularly know as GLXP of $30 Milion Winning Prize, Awarded to First Team who successfully land rover on the moon surface, Travel 500 meter on the Moon and Transmitted HD Video and Images to Earth.
So basically Google Lunar X PRIZE (GLXP) Competition Organized By The X PRIZE Foundation and sponsor by Google inc.
Read More: Abour XPRIZE Foundation and India
The $30M Google Lunar XPRIZE (GLXP)is an unprecedented competition to challenge and inspire engineers, entrepreneurs, and innovators from around the world to develop low-cost methods of robotic space exploration.
Website: lunar.xprize.org
GLXP $30 Million of THE
MOON SHOT
Amount of Contest Announced by X PRIZE

| Prize | details | Prize Amount |
| --- | --- | --- |
| GRAND PRIZE | The first team that successfully completes this mission | $20 million |
| SECOND PLACE | The second team to successfully complete the mission | $5 million |
| BONUS PRIZES | US$4 million in technical bonuses US$1 million diversity award | $5 million |
What Team has to Do for Wining the google lunar XPRIZE (GLXP)?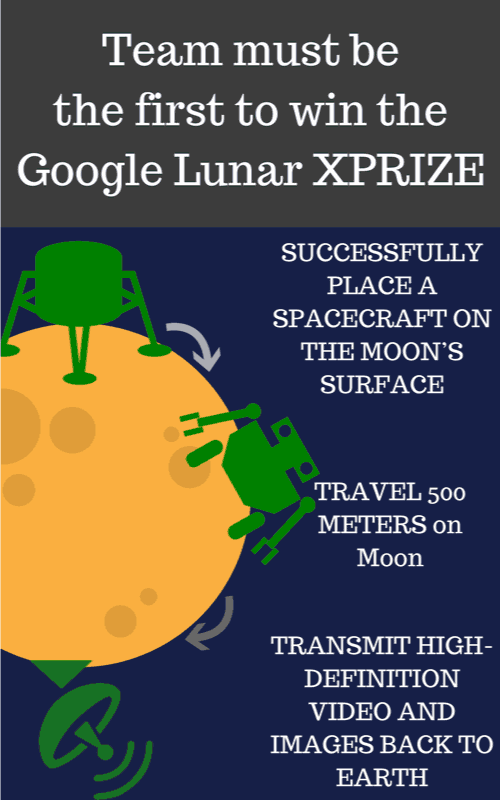 Some Criteria of GLXP (google lunar x prize)
A team must land its craft on the surface of the Moon.
After landing Rover must travel a distance of at least 500 meters on, or above the surface of Moon.
Taking Moonshot must transmit two "Mooncasts" from the surface of the Moon to Earth
To win either of these prizes, teams must prove that 90% of their mission costs were funded by private sources i.e Govt. are not allowed to fund more than 10%.
The team has to launch until the end of 2017.
Timeline of The Google Lunar XPRIZE (GLXP)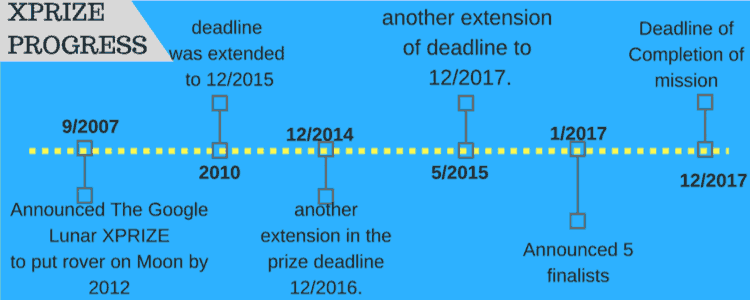 Read More: Team Indus Rover ECA for Google Lunar XPRIZE of $30 Million