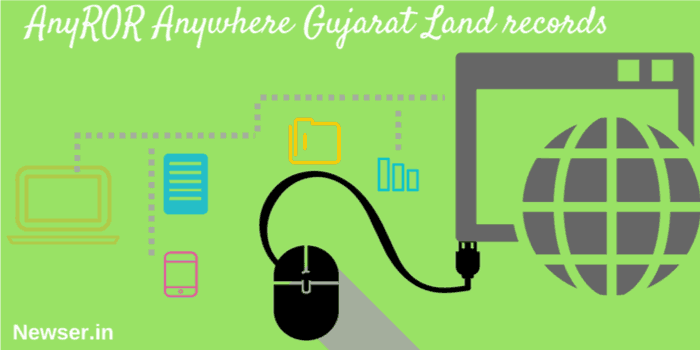 Any ROR Anywhere means Any Record of Rights Anywhere. AnyROR is Gujarat online Land Record software for providing services like 8A, 7 12 land records (VF 6, VF 7, VF 8A online). such land record can be accessible (view) from Gujarat Government online website www.anyror.gujarat.gov.in and can be viewed online land record Map from the mobile application called Any ROR app.
Why Needs of Any ROR?
Land Records Requires for the following reason.
To Purchase, inheritance and Sell Land etc
Get Crop Loans to raise farm credit or Bank loan, Kharai, Varsai, hypothecation of land, getting electricity connection, subsidies, Change Ownership, Transfer of ownership etc.
Govt. need Land Records for said above purpose to verified and create, update and providing information and for analytics purpose
To establish land title during sale/ purchase of land and during registration of property.
For land division within family members, Legal and personal Purpose
Information Technology is The New Era, where technology made easy day by day and digitalise all information everywhere. hence government needs such system which should be easy to access, Maintain update and can be accessible from anywhere by using any device whether mobile or computer. The Solution only with digitalizing all land record in one central control and maintain over there so any people can easily read the land record online using Any ROR portal.
AnyROR System Can Help:
Farmer Can easily get copy of Land Records (8A and 7 12 Utara)  using Any ROR @ Anywhere portal.
To easy for the citizen to change ownership, Transfer of Right, View Right, Get Subsidy, Buy and Sell of land etc.
Creation and Modification of Land Records can easy for Talati and government officer from E-Dhara Kendra
As one Central Server or Database are maintained of All record it also easy to Maintain and Update information
An AnyROR @ anywhere Portal provides Land Record (Record of Rights).  www.anyror.gujarat.gov.in or AnyROR.Guj.gov.in is The Official website of Gujarat Govt. to access Land Record online from anywhere, anytime using any device having the internet connection and Front and Interface such as Mobile, PC tablet etc.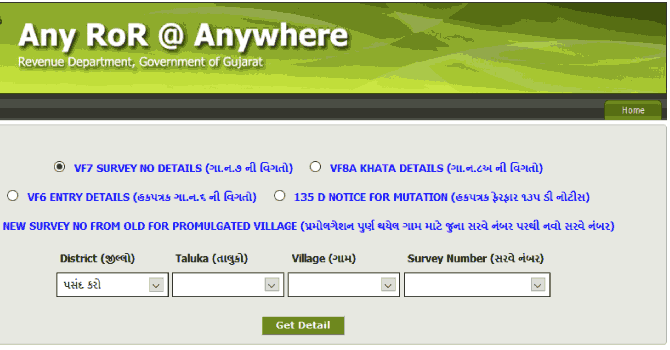 Any RoR @ Anywhere Land Records Online of Gujarat
Any ROR @ Anywhere land record system is Designed Developed By National Informatics Centre, Gujarat (NIC) in Association with Revenue Department of Gujarat.
What is Any ROR or AnyROR ?
Full form of Any ROR or anyROR is Any Record of Rights Anywhere. Any ROR is the online land record system govern by Revenue dept. of Gujarat Government.
Hence to check or get copy of Record of Rights i.e VF 7, VF 8A and VF 6 (8A and 7 12 Utara Nakal) online using gujarat govt. website (anyror gujarat gov in). by selecting Location and Survey No. (Index number) or Accooun No. i. e Khata No., no need to travel to E-dhara Kendra / e-gram centre or Taluka office.
ROR@Village is now available online website for public.  ROR @ Village Now become ROR @ Anywhere, You can get VF 7 preview over internet by using Web Browser.For This  open http://anyror.gujarat.gov.in -> Select Your District -> Taluka -> Village -> Select Survey Number -> Write captch code appearing in image.
What is Record of Rights (ROR)
Record of Rights is the most important statement in land revenue records because it is the main record that shows how rights on land are derived for occupant or land holders and thereafter record the transactions made in records of rights from time to time.
Record of rights has been in the form of diary, which contains following details of all rights given under
formerly registered or unregistered documents,
by heirship, by verbally agreeing to or otherwise acquired as well as those of land-owner occupier,
mortgagee, farmers, tenants or private rights of those who are authorized to collect tenancy or revenue of the land as well community rights and rights of easement and all Government rights on the land.
Then the said rights are entered into index of land as per serial number of survey number of each village and separate entries are made as per possession of sub-part (peta-hissa) of each survey number or Khata Number.
Land Record Forms Available in Any ROR
Types of Land Records Form on Gujarat Any ROR

| Form No. | Title | Distciption |
| --- | --- | --- |
| VF 7 |  Survey Number Details (7 12 Utara) | Village Form 7 (VF 7) also called as 7/12 or satbara utara. Following information show in form of Survey Number (Khasra) details of your land.Land Details , Ownership Details of specific land , Boja and Other Rights Details |
| VF 8A | Khata Details |  This option provides following Khata details of your land.All Land Details of specific Khata Number and Owner Details |
| VF 6 | Entry details |  Village Form 6 is a register maintained by Talati (Village Accountant) to incorporate day-to-day changes in land records. Use this option to check entry details for any changes. |
| 135 D |  Notice to Mutation | When you apply for Mutation Talati prepares Notice 135D (Notice to Mutation). This notice is served to khatedars concerned relevant parties and any other interested parties for any objections. |
| New Survey No | New Survey No from Old Promulgated Village | For Village whose promulgation is completed |
How To Check Land Records Online on AnyROR Gujarat Website?

Following are the steps to get Gujarat land Record online on AnyROR portal.
Open AnyROR Gujarat website (anyror.gujarat.gov.in) using Web Browser like Chrome, UC browser, Mozilla etc
Click on button "View Land Record (જમીનનો રેકર્ડ જોવા માટે)" to open Records of Right (ROR).
Select option of forms of land record you want to see i.e. VF 7, VF 8A, VF 6 or 135 D notice as details said Above.
Now selecting the location of land records you want to see:

Select District (જીલ્લો) from Dropdown menu: Ahmedabad, Amreli, Anand, Aravalli, Banaskantha, Bharuch, Bhavnagar, Botad, Chhota Udaipur, Dahod, Dang, Devbhoomi Dwarka, Gandhinagar, Gir Somnath, Jamnagar, Junagadh, Kutch, Kheda, Mahisagar, Mehsana, Morbi, Narmada, Navsari, Panchmahal, Patan, Porbandar, Rajkot.
same select Taluka (તાલુકો) and Village (ગામ) as applicable
Enter Khata Number, Survey No. or Entry No. which you want get record

Enter Captcha code appears in Image and Click on the button "Get Detail" to get Land record details.
How to Certified Any ROR Copy of Gujarat Land Records (7/12 Utara)
For certification of AnyROR copy of Gujarat Land Records i.e Record of Rights (RoR) 7 12 Utara, 8A Entry form etc. follows following points.
Visit E-Dhara Kendra at Local Taluka Mamlatdar Office with Survey No (s), Khata No(s), Farm Name(s) or Khatedar Name with you while requesting RoR print.
Request Record of Rights (ROR) Print along with Fees As applicable.
e-Dhara Kendra Mamlatdar or any nominated personnel signs and stamps requested computerized RoR
Received Certified copy of Computerized RoR.
Any RoR Anywhere Gujmap Android App

Developer:
Guj Infotech
Requires Android:
Detail of Application:
Record of – Any Ror, Anyror, 7 12 record, Land record , sat bar, 7 12 8a, Land, Gujarat land, gujarat jamin record, zamin,  agriculture land,  Non-agriculture land, NA land, Industrial Land, GIDC, Commercial Land, Allocation of land, Name of party
What is E-Dhara?
E-Dhara Project Govern under the Revenue Department of Government of Gujarat.
e-Dhara is a Land Records Management System. This system (eDhara) provides prompt issuance of computerized any RoR across the counter online update of land records.
A complete eDhara system consisting of Issuance of computerized any RoR from dedicated counter in Taluka office and Receiving mutation application and processing it in online mode was envisaged to be in place immediately.
Recommended Read: E-Dhara: Gujarat land records online 7 12 Utara | AnyROR
Download Reference
[PDF]  The Bombay Land revenue Code, 1879
[PDF] Gujarat Land Revenue Rules 1972
Have Any Inf. and Question ? Ask in Comment..